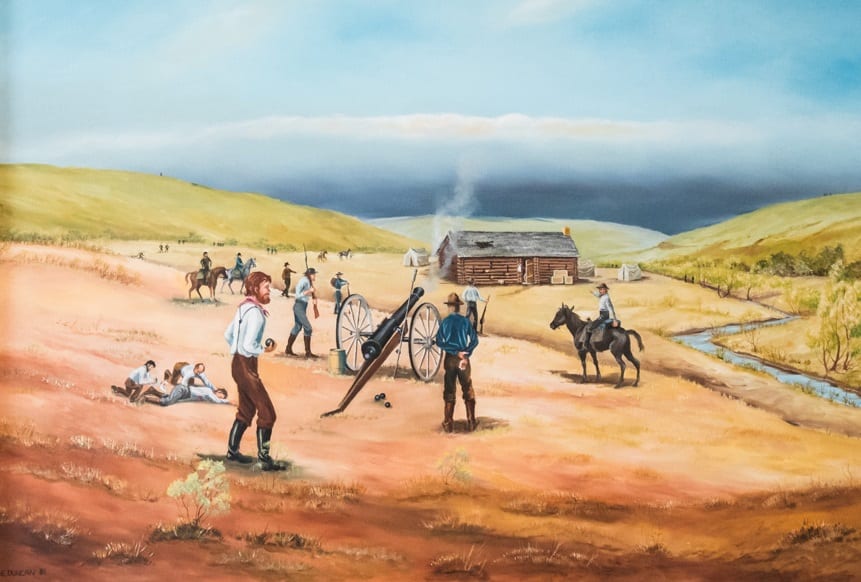 On August 16, 1856, some fifty Free State men under Captain Samuel Walker attacked Ft. Titus. After a brief battle, Ft. Titus and its thirty-four defenders, including Colonel Henry Titus, surrendered. Also surrendered were 400 muskets, a large number of knives, 13 horses, several wagons, a large stock of household provisions, farm equipment and $10,000 in gold and bank drafts. Slaves and servants owned by Titus were set free and instructed to go to Topeka. Two proslavery men defenders were killed and Titus and five other combatants were seriously injured. Eight free state men were wounded, Captain Henry Shombre mortally. The fort was then burned to the ground.
Ft. Titus was a proslavery stronghold in Douglas County about two miles south of Lecompton on the east bank of Coon Creek. Colonel Henry Titus built a fortified log house as a rendezvous point and place of defense for proslavery men fighting their Free State neighbors. After the battle, the site was purchased in 1856 from Titus by William Nace as a farm. In 1860, the Battlefield Distillery was opened on the old site of Ft. Titus by Nace and a Mr. McKinney.
Artifacts from the battle are on display in Lecompton on the first floor of the Territorial Capital Museum and an oil painting of the battle is hanging in the second floor chapel.
Fort Titus Cabin
The Lecompton Historical Society, with funds generously provided by the Wayne and Maybelle Slavens Hall Fund, has constructed a representation of Henry Titus' cabin that sits 100 yards southeast of the Territorial Capital Museum.  Every 3 years, a reenactment of the Battle of Fort Titus is performed by the Lecompton Reenactors during Territorial Days at this replica cabin.  Territorial Days in 2015 is June 19 & 20.   The next reenactment will be in 2016, in honor of 160 year anniversary of the building of Constitution Hall.